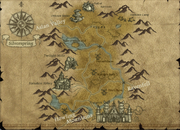 Silverspring is the second map that an adventurer encounters. It contains the town of Varanas which is the major town that an adventurer should encounter. Recomnded lvl 10-15
Bosses Include: Yuri- Bandit leader- reccomendation- PARTY
Bernok- wolf Leader- reccomendation- PARTY
Kipos- Konold Leader- reccomendation- PARTY
Amais- escaped Criminal- reccomendation- PARTY
This map includes:
3 Farms
1 Haunted Abbey
1 Major Town
1 Mine
and a bridge to connect to another map

Silverspring set consists of 4 pieces
Chest- Quest reward for Killing the Kobold Leader from Teresa.
Legs- After doing some quest from Peers farm, you will be able to gain this item.
Boots- You will get the boots after finishing a quest-chain at Dorians farm. (the first quest is located at the caravan west of the farm)
Gloves- You will get the gloves after returning a dropped item from the bandit leader "Yuri". Yuri can be found by following the road along Peers farm to the east.
Ad blocker interference detected!
Wikia is a free-to-use site that makes money from advertising. We have a modified experience for viewers using ad blockers

Wikia is not accessible if you've made further modifications. Remove the custom ad blocker rule(s) and the page will load as expected.