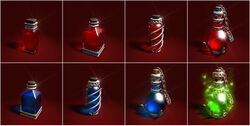 The Alchemist can make a big assortment of potions. Potions can be made by using Herbs and Ores in combination with Blend runes and bottles.
Certain potions have a green variant. The recipes for these can be found throughout the world.
* = You need a recipe that is only dropped by monsters.

Materials
Edit
Instructors
Edit